Keeping the interior of your car clean and organized can be a challenging task for many drivers. With an array of items such as smartphones, charging cords, water bottles, daily vitamins, and notes, it can be hard to keep track of everything, especially while driving. To ensure your safety while on the road, it's crucial to keep your phone within reach and your water bottle up front, rather than rolling around in the backseat. But with the hustle and bustle of modern life, it's easy to end up with your belongings scattered all over the car, from the glove compartment to the center storage console, and even the cupholders.
Keeping your car organized doesn't need to be difficult, time-consuming, or expensive.
Although car manufacturers today are trying to make interiors more practical for drivers and passengers alike, there always seems to not be enough storage space. Why is that? Well, we're more busy now than ever before. Technology and the bustle of modern living have got us juggling our phones, car keys, yoga mats, medication, workout gloves, AirPods, and more. From the glove compartment to the center storage console…our stuff ends up all over the place, especially when the front cupholders are full.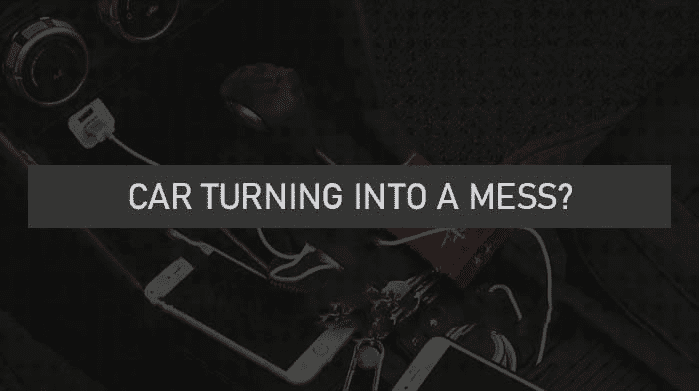 Attention everyone, we have found the perfect solution for your car storage needs! Introducing our Premium Car Seat Organizer – a sleek and practical compartment designed to fit snugly between your seat and your car's center console. It provides a safe and convenient place to store your daily essentials such as your phone, car chargers, headphones, and even a small thermos of coffee or water. With this organizer, you can keep your belongings in place without compromising your safety or that of your passengers.
Crafted with quality polyurethane Leather, our Premium Car Seat Organizer is designed to fit and add extra style to any vehicle universally. No more painfully shoving your hand in the gap to nowhere between your seat and center console searching for that pen or AirPod bug. No more dangerously fishing around your center compartment while driving for that lip balm or pair of sunglasses. Our organizer fits right in that infamous seat-center console gap so items no longer go missing. Instead, you can keep everything sturdily in place — and within arm's reach — from your phone to drink to sanitizer and spare coins. Our Premium Car Seat Organizer is the perfect way to keep yourself organized on the go.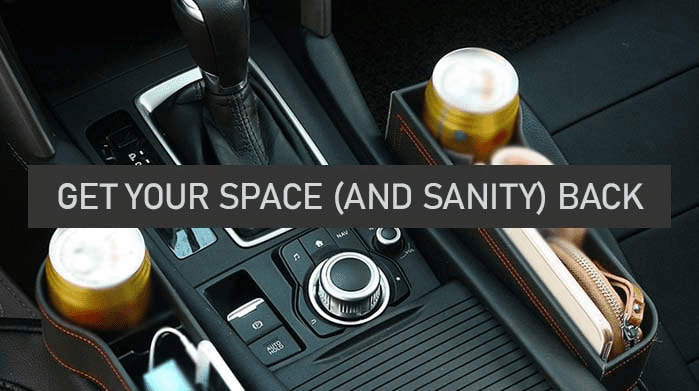 Features:
A universal design fit for all car makes and models
Multi-use storage, from change holder to storage to drink holder
Instant extra space for your smartphone, wallet, drinks, etc.
Expert-crafted polyurethane leather for a stylish touch
Closure of that narrow seat-center console gap where many small items fall into
Designed to keep your phone charger secure, hidden, and easily accessible
Easy to attach, reach, and remove. Just insert the compartment between your seat and the center console.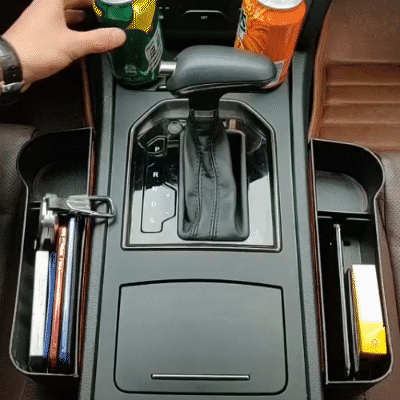 This auto-interior solution is perfect for those who are always on the go or need car organization.
Remember, unlike your home where you can just get up and grab something that you need — a car is a moving vehicle. Even if at a red light, there's a safety risk that you accidentally step on the accelerator as you're shuffling around for something you need. Don't spell disaster and spell safe driving practices with us with this convenient and helpful accessory.
Drive smart. Drive safe. And stay organized and efficient with a one-of-a-kind Premium Car Seat Organizer.